Connect your Workable and bob accounts to export candidate information seamlessly from Workable to bob. When you move someone to the Hired stage of your recruiting pipeline, their details are automatically transferred to bob as a new employee.
Imported information:
First name
Last name
Email
Phone
Candidate source
Resume
Avatar/Photo
Job title
Job department
Setting up the integration
You must be an admin in Workable to set up this integration.
1. Connect your bob and Workable accounts
Login to bob and navigate to the Settings section. Select Integration and choose the Recruitment Integration menu. Locate Workable in the list that appears: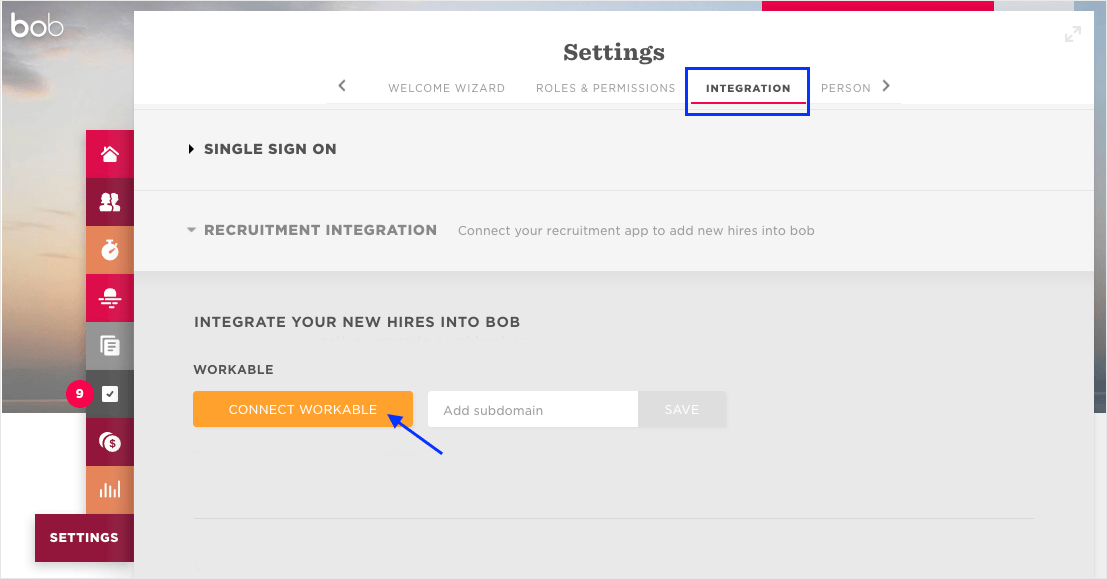 Click the button to 'Connect Workable'. You'll be prompted to log in to your Workable account. Enter your details and click the 'Allow access' button to confirm the connection between accounts.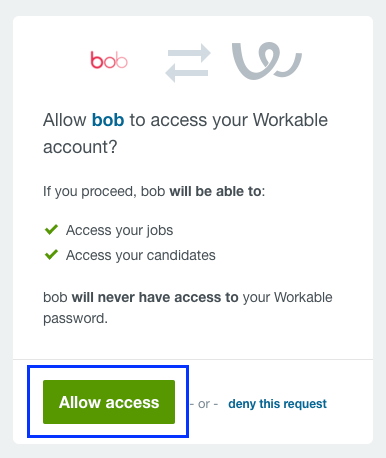 2. Add your Workable subdomain to bob
Add your Workable subdomain into bob to complete the connection between the two accounts. The subdomain can easily be found in the Company Profile section of your Workable account.
Log in to Workable, click your profile icon in the upper right and select Company Profile.
On this page you'll see a field that contains your subdomain. Copy the subdomain and paste it into the subdomain field in bob (in the same section where you clicked the button to 'Connect Workable').

Click Save to complete the connection.
Now, when a candidate is moved to your Hired stage in Workable, their details will automatically be sent to bob.