You must be a Super Admin in Workable to enable integrations.
Connect your accounts and use your prepaid TotalJobs job credits to post jobs directly via Workable. Only one Workable user needs to perform this process one time to enable the integration for all users.
To set up the integration, start by logging in to your Workable account:
Click your profile icon in the upper right to access the Integrations section
Click on Totaljobs in the Job Boards Integrations
Enter your Totaljobs account info and contact details
Click Update Settings to complete the setup.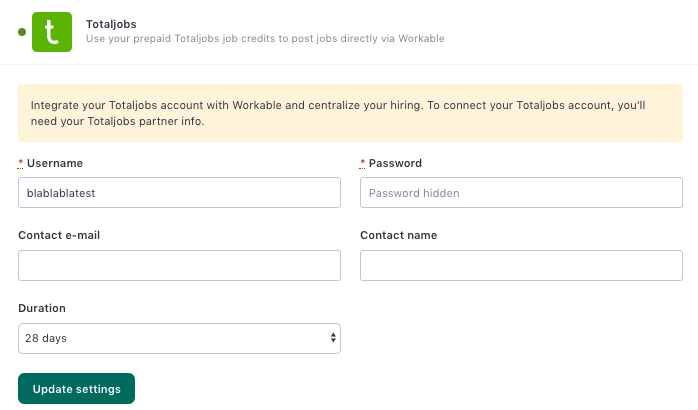 That's it! Your accounts will now be connected.
Posting your jobs to TotalJobs from Workable
Once your TotalJobs and Workable accounts are integrated, you can post jobs to TotalJobs using your job posting credits, directly from Workable. At the Find Candidates step for each job, select Premium Job Boards, locate TotalJobs and choose "Use recruiter account" on it to confirm that you want to use a job slot for that job. 
Alternatively, you can choose to buy a posting directly from Workable. Just click to add it to your cart and continue through the checkout process.
Once published, you can edit your job's details by clicking the cogwheel button on the card and add further details or edit the available information to target your job more effectively for this board: