If there is additional information you need from your Workable reports, there are a few options you can consider to get the data you need.


Export and filter Workable reports
Available to: All plans
All Workable reports can be exported as a CSV based on the filters you have set.
Once exported, open the CSV file in Excel to filter further and manipulate the data. Refer to our reporting guide or contact us for assistance.


Leverage an Analytics Partner (Eqtble)
Available to: All plans, Recruiting reports
Eqtble is a people analytics platform that instantly delivers curated insights from across your people tools. Eqtble connects to your existing HR systems and provides actionable insights with curated analytics. Companies use Eqtble to understand their DEI, engagement, attrition, and hiring.
With the integration, your Workable data will be synced to Eqtble where you can set, track, and analyze your goals via custom reports. Learn how to integrate Workable + Eqtble.
💡Through an exclusive offer for Workable customers, enjoy free reporting for 12 months (a $9,000/year value). Claim the offer and set up your free account now!


BI Data Link
Available to
: Premier plans for Recruiting reports (for annual Standard plans it has an additional cost).
Contact us
to purchase or set up.
Workable can provide direct access to your raw recruiting data via Business Intelligence data link services to create reports and dashboards in your preferred Business Intelligence tools like Tableau, Chartio, Periscope, and Tibco. 
Custom reports via Professional Services
Available to
: Premier plans for Recruiting reports (for an added cost).
Contact your Account Manager
to request custom reports via our Professional Services team.
To access custom reports, you will need to have a Google-managed account as they will be shared via Google Sheets or Google Data Studio. Custom reports can be either a one-time request or updated on a daily basis.
Advanced Reporting Package
This package is a predefined set of reports in Google Data Studio (plus any additional report(s) that you wish to include) with options for advanced filtering and charts.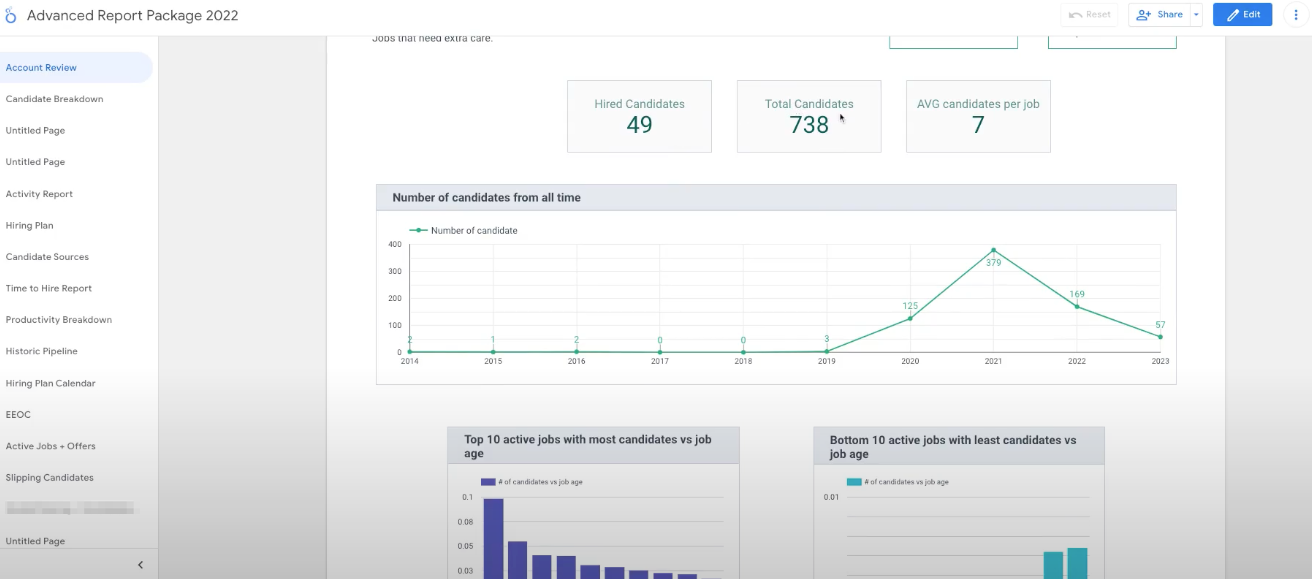 You can see below each report included in the package together with the most common use cases:
Report
What does it measure?
Common Use Case
Account Review
Dashboard view of your account history; number of candidates received, top/bottom 10 active jobs, oldest active jobs and active jobs per month.

● Get a snapshot of your hiring activity since joining Workable.

● Review Hiring trends over the course of your Workable
subscription.

Candidate Breakdown
Information about all candidates in your pipelines
● View Creation time of candidates.
● Filter candidates based on the tags you have used.
Activity Report
Breakdown of all account 'Activity' (last 10,000) by 'Member' and 'Candidate'.
● Review frequency of activity type by 'Member' and when it
occurred.
● Use the chart to view jobs with most and least activity.
Hiring Plan
Information on requisitions that have been 'Reserved' or 'Filled'.
● View the list of Filled and Reserved Requisitions by Req Owner, and Req Open Date.
● View the list of Req owners assigned to each req
● View Salary offered.
● Obtain Filled/Hired date for filled requisitions.
Candidate Sources
Overview of your candidates sources, grouped into the following categories: Sourced, Referrals, Recruiters, Other, Job Boards, Internal Applications and Company Marketing.

● Identify your top applicant/hire sources.
● Isolate and view efficiency of individual sources, including
internal applicants and referrals.
● Use the charts to identify top source for 'Views', 'Candidates',
and 'Hires' - Use the 'Move' chart to infer the quality of candidates from a particular source.

Time to Hire
Time to fill = Time taken to fill a job from the day requisition was marked
as 'Open', until the day it was 'Filled'.
Time to Hire = Time from first candidate engagement to day they were
moved to 'Hired' stage.
● View the number of hires in a given period.
● View the Time to Hire and Time to fill for each Hired candidate.
● Monitor Recruiter/Hiring Manager KPIs by tracking their "Time to Hire" and "Time to Fill" performance.
● View 'Job Activation' date.
Productivity Breakdown
Activity of your Hiring Team and 'Actions' taken by your account
members.
● Track the most common activities in your account and by each member.
● Identify the most 'active' members.
● Monitor how many Calls, Interviews and Evaluations each
Member executed in a given period of time.
Historic Pipeline

Overview of the number of candidates who reach and move through
each stage of your pipeline.
● View pass through rates of candidates at the account or job
level.
● View the productivity of the member against the total
candidates in the stage.
● Use the chart to view the status of the top 10 stages, with the most candidates.
Hiring Plan Calendar
Overview of your planned Requisitions, against yearly timelines,
segmented into quarters.
● Easily view the planned hires over the course of the year.
● Present hiring plan to CHRO's/CFO's/ Execs.
● Use for new hire planning with internal teams.
EEOC
Candidate responses to the EEO/OFCCP applicant surveys (only for US
jobs).
● Monitor your candidate demographics, against status and disqualification reasons.
● Pie charts help you visualize your application distribution based on Gender and Race.
Active Jobs + Offers
Overview of Active jobs, and their published dates. Chart visualising
Offers Accepted/Rejected by month.
● Identify the number of 'Active' job in a selected time period
● User the chart to understand your Offer Acceptance to Offer
Rejection Rates.
Slipping Candidates
Candidates that require your attention or are awaiting action from your
team.
● Easily identify any candidates that may have been overlooked,
but have been awaiting a response.
● Use the Pie charts to view the jobs and stages that need your
attention.