If your job/s receive fewer candidates than expected or you notice a drop in the applications, follow these checklist points to identify and resolve any issues.
Check the publication and job initialization status
As soon as you click 'Publish' in the job editor, your posting will automatically enter the review queue, where our experienced specialists will check it so that matches the job posting guidelines.
Once jobs are approved, they appear on your careers page immediately but can take up to 36 hours to sync to all job boards. We'll notify you via email if we notice any issues.
From the main dashboard click on the Find Candidates button for the job. If your job was not able to be posted on some of the boards, you'll see a notification in red. Click on Free Job Boards to see more information and proceed with the needed changes.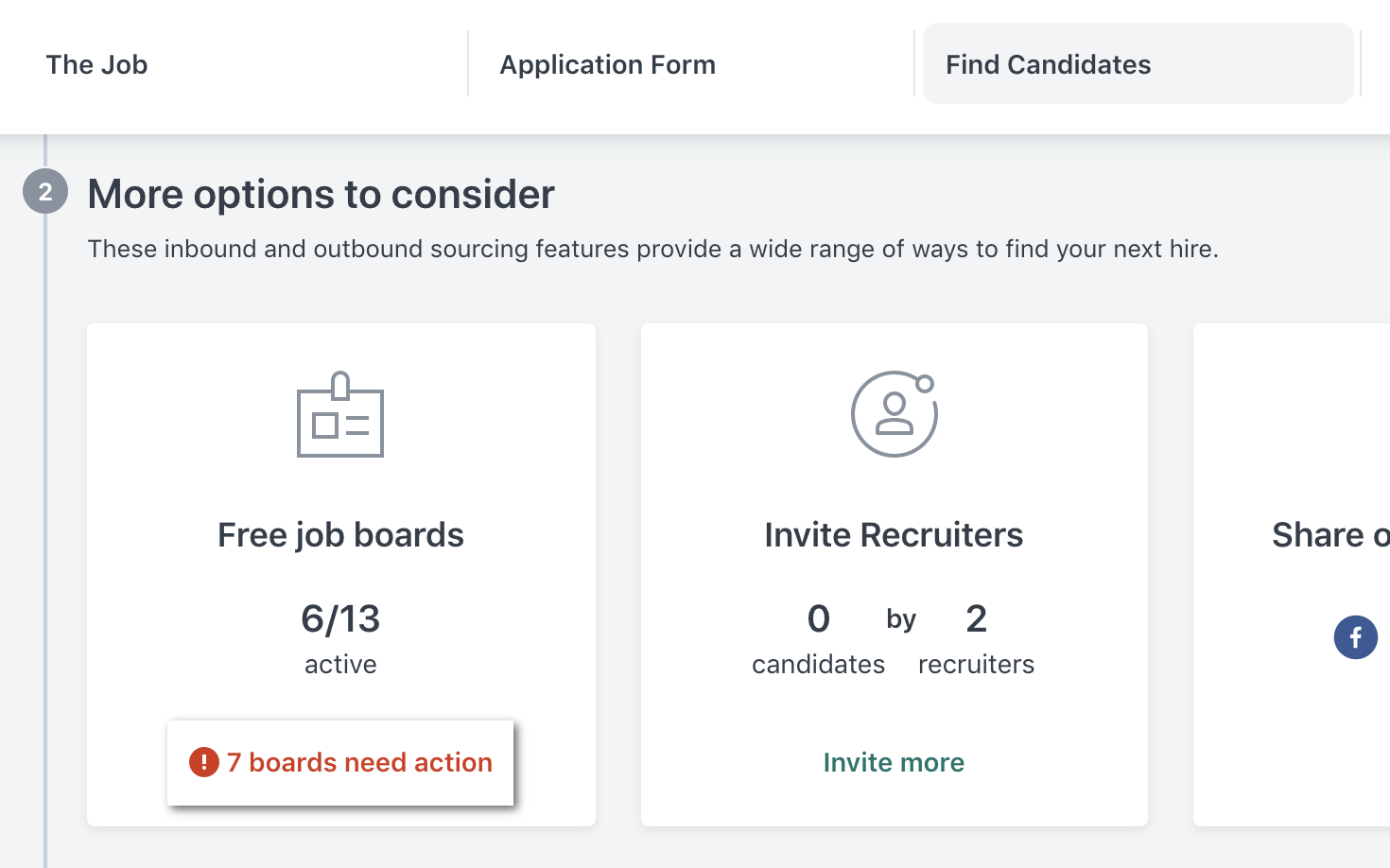 In the below example, you will need to add a region and city to enable the specific job boards.

Ensure job board initialization steps have been completed

If your job is remote follow our guidelines
Jobs that have been posted a long time ago will be deeper in search results and are harder for candidates to find. If you are republishing a job that you posted several months ago make sure you create a new job or clone the previous job. We only recommend doing so only once every 3-4 months at most.
Review the job description, setup and application form
Even if you use one of our job description templates, make sure to add a personal touch and introduce your company. The most important aspect of a job description is the benefits section; adding a meaningful benefit will make your ad more competitive in the market.
Review the job editor settings and ensure all fields have been filled in (e.g. i

ndustry, job function, employment type, keywords). These details will help job boards index correctly your jobs.

Review your application form and ensure that is short and clear; a long application form may prevent some candidates from applying
Research the job market
Take a quick look on job boards by searching for your job's title and location to determine the amount of competition it has. If the list of recently posted jobs stretches over multiple pages in the results, consider a premium option. Under Find Candidates you will find options for Premium job boards and Workable Campaigns.
Not all job boards can perform equally for every type of job. If a role is particularly challenging to fill, consider advertising to more niche job boards. For the ones we don't integrate with, you can use the job shortlink.
Research how your competitors recruit for this job (requirements, benefits, salary range)