Apply with LinkedIn allows candidates viewing your application form to more easily fill in their details.
When candidates go through your application form, they will see an option to apply with their LinkedIn profile. If a candidate chooses this option their LinkedIn profile will be used to fill in details on the application form.
The candidate will still need to manually complete any custom application form questions that you have added.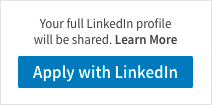 Setting up Apply with LinkedIn
You must have a full LinkedIn Recruiter account and be an administrator in Workable to setup Apply with LinkedIn.
To begin, sign in to Workable and click your profile icon in the upper right. Select Integrations from the menu.
In the Integrations section locate LinkedIn and click on it to update its settings. Then select "Setup or view existing LinkedIn Integrations".
If you're not currently signed in to LinkedIn, you will be prompted to log in. Enter your LinkedIn credentials to continue.
Locate Apply with LinkedIn in the list of integrations and click the button to request a connection.
After clicking the button the connection will be complete. A button to Apply with LinkedIn will be added to your current and future application forms automatically.